Casio SA-51 Casiotone Mini Keyboard 32 Keys - Black
These Tiny Keys Open Doors.
The new SA-51 packs a wealth of features into a tiny keyboard that can be enjoyed anywhere. 32 mini keys make playing easy, even for small hands.
Availability in
TRUSTED FREE SHIPPING
SECURE SHOPPING
---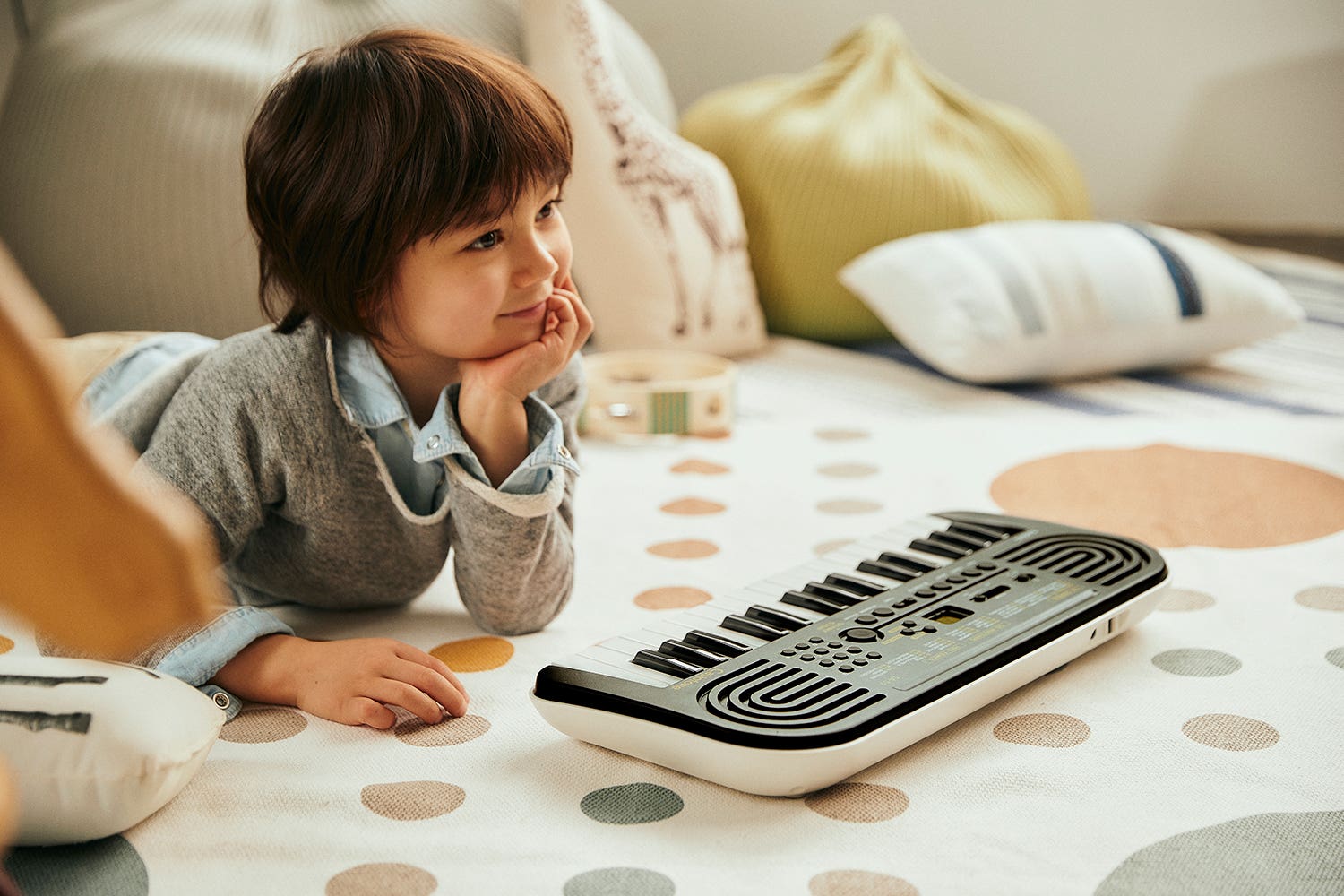 The Perfect Start in Music
Casio SA series keyboards bring the spirit of music to families across the world. Want to play a favourite melody? Learn a new song? Make a family moment even more fun? All this and much more is possible with the amazing SA-51 mini keyboard.
Let eager minds explore any of the 100 tones, including instruments from around the world, and discover exciting musical styles with the 50 built-in drum rhythms.
You can even take the lead and play along to 10 fully orchestrated songs, learning at different speeds as you go.
---
Fun and Easy to Use
Intuitive and easy to use, the SA-51 is built to the highest standards of manufacture, ensuring excellent build quality and reliability. Every button has a positive, soft-touch feel and the new LCD screen makes choosing settings and functions very straightforward.
You can play up to 32 notes at once on the 32 mini keys, which allows for chords and melodies to be heard at the same time. The new octave shift feature makes it possible to access the full range of 88 notes (the same as on a traditional piano).
Jam along to any of the exciting 50 drum loops, including pops, dance and ballad styles. Press the Drum shortcut button and each key sounds a different drum sound, ready for you to take a keyboard drumming solo!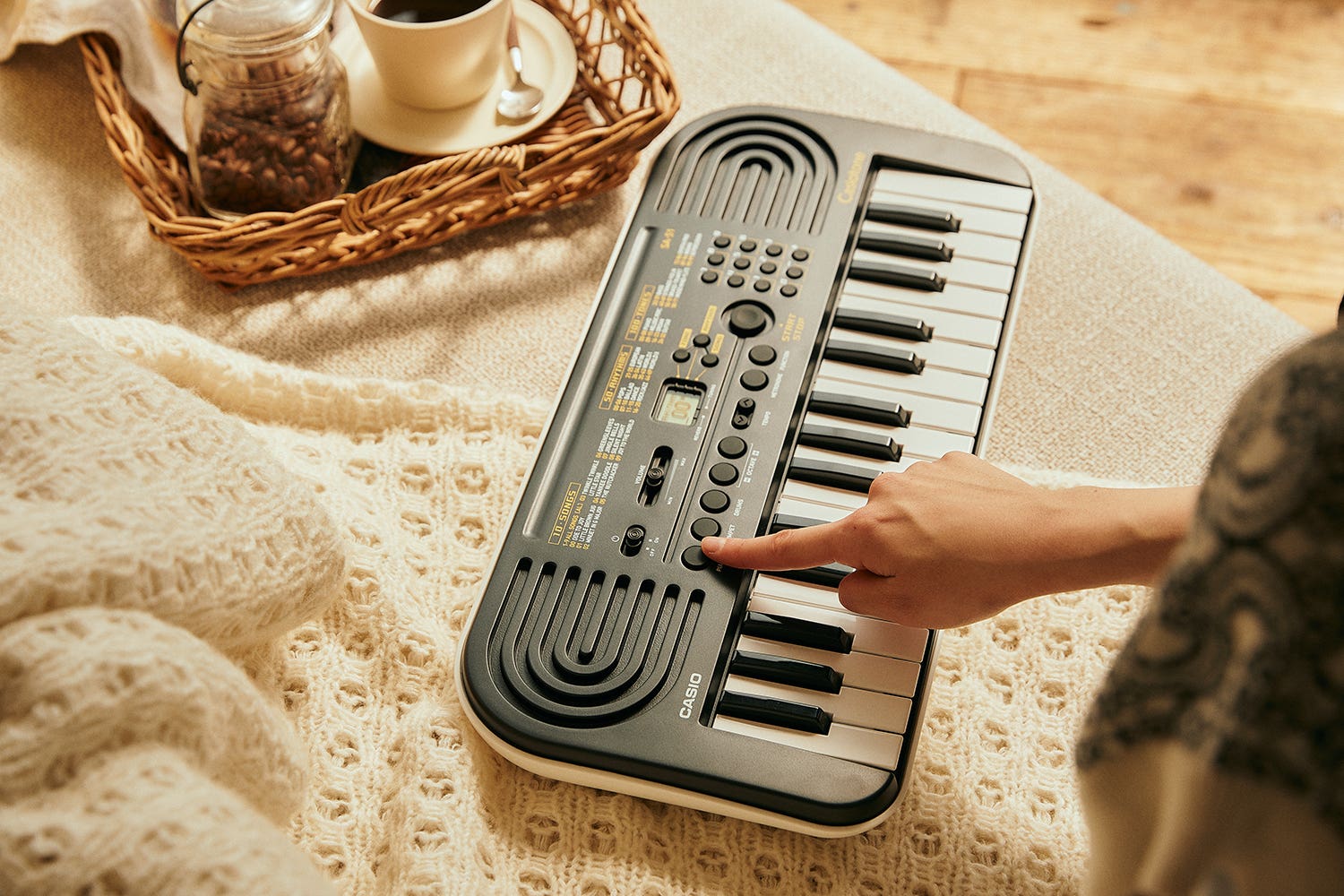 ---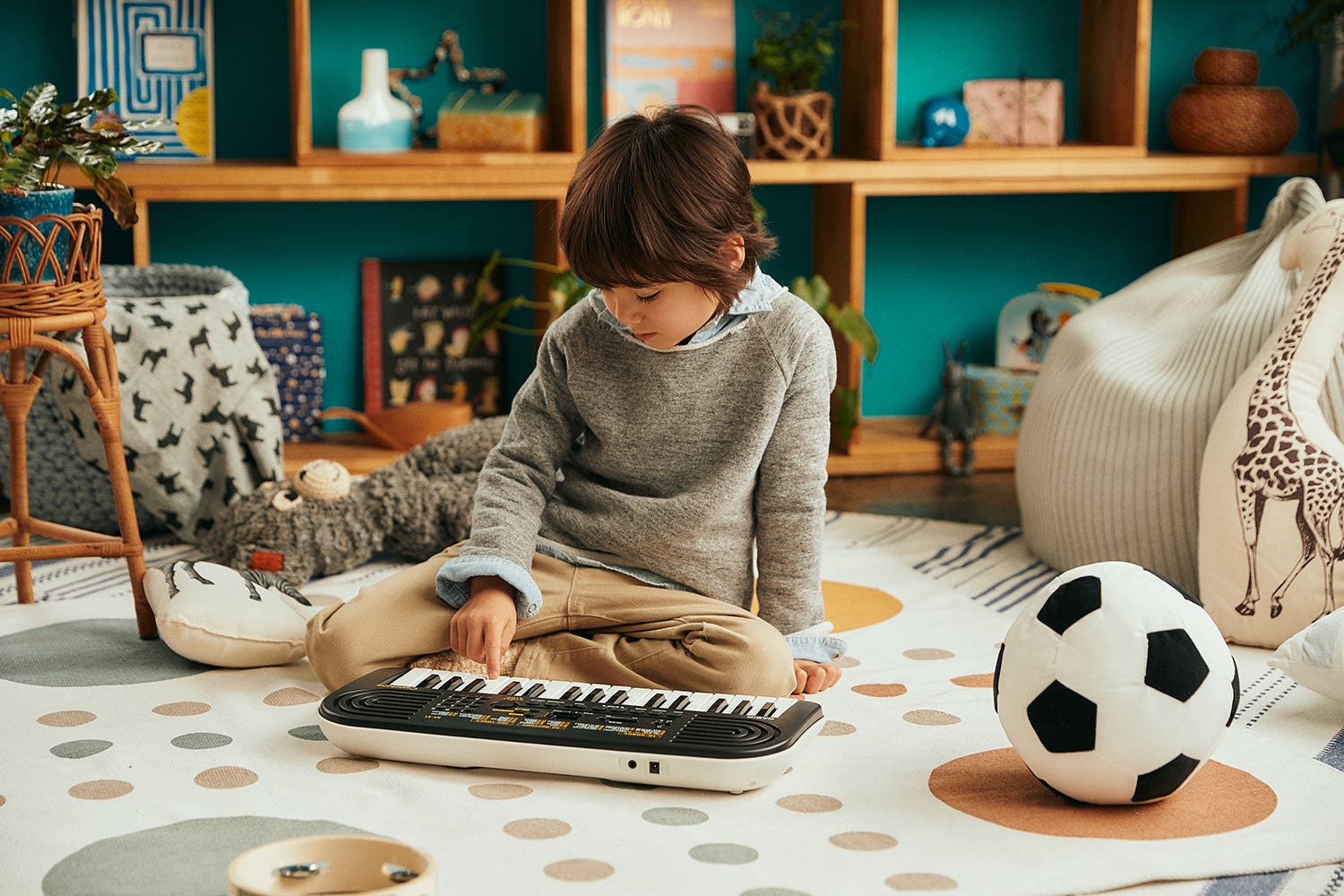 New Sounds. New Style
The new SA-51 has attractive new styling and a compact size which fits with any living space.
Inside, a new sound chip provides high quality stereo sound and effects. The new SA-51 series are the best 32-note mini keyboards we've ever produced.
---
There's Always A Place for Music
With the SA-51, you can make music anywhere. Weighing just 1kg, you'll find it perfect for use anywhere you please.
6 AA batteries will give you 12 hours of continuous use (10 hours from rechargables) , or you can plug in the optional AD-E95100L power adapter.
You can also plug in headphones for silent practice using the 3.5mm headphone connector.
What's more, the SA-51 is covered by Casio's 2 Year Warranty and UK technical support, giving you complete piece of mind.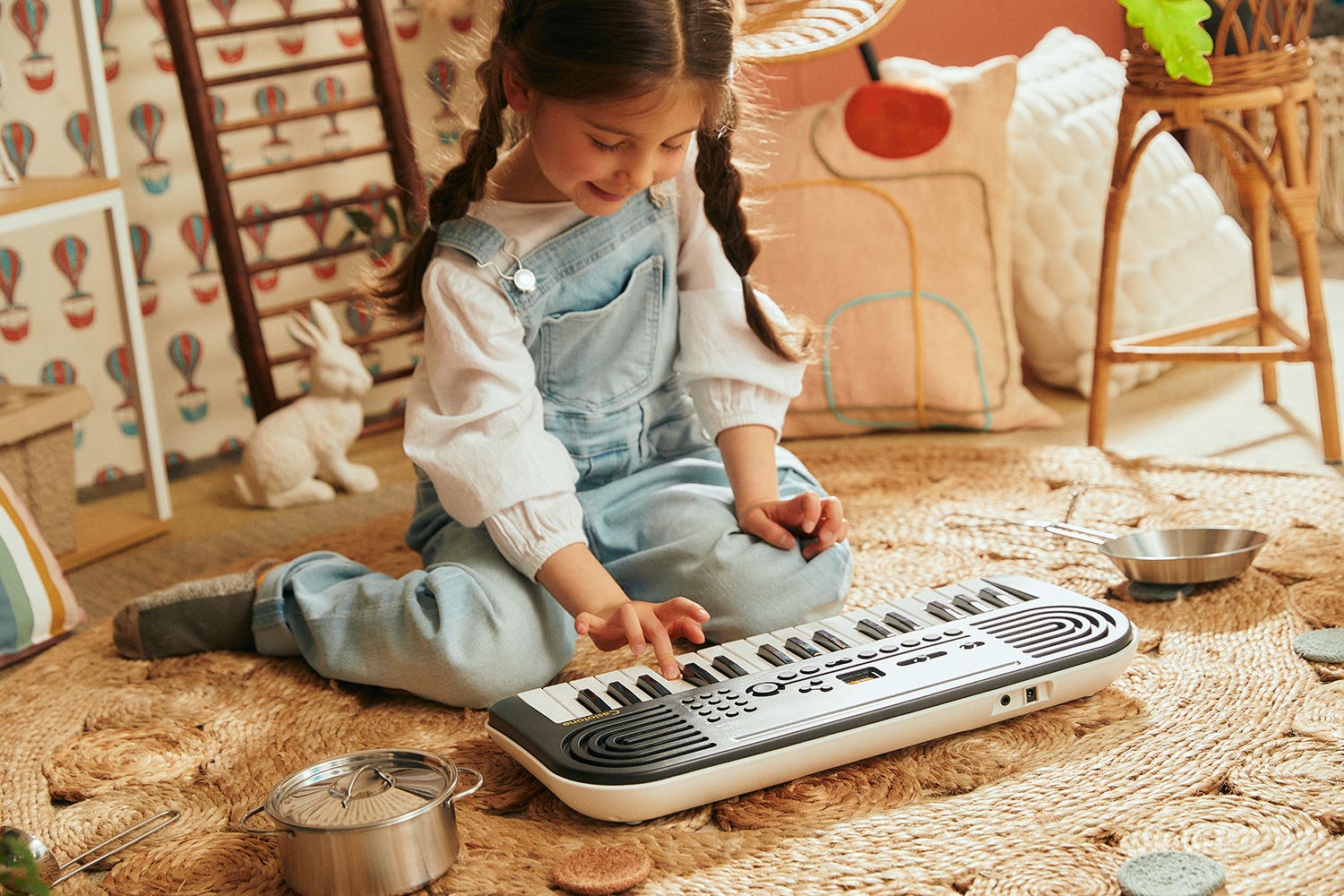 ---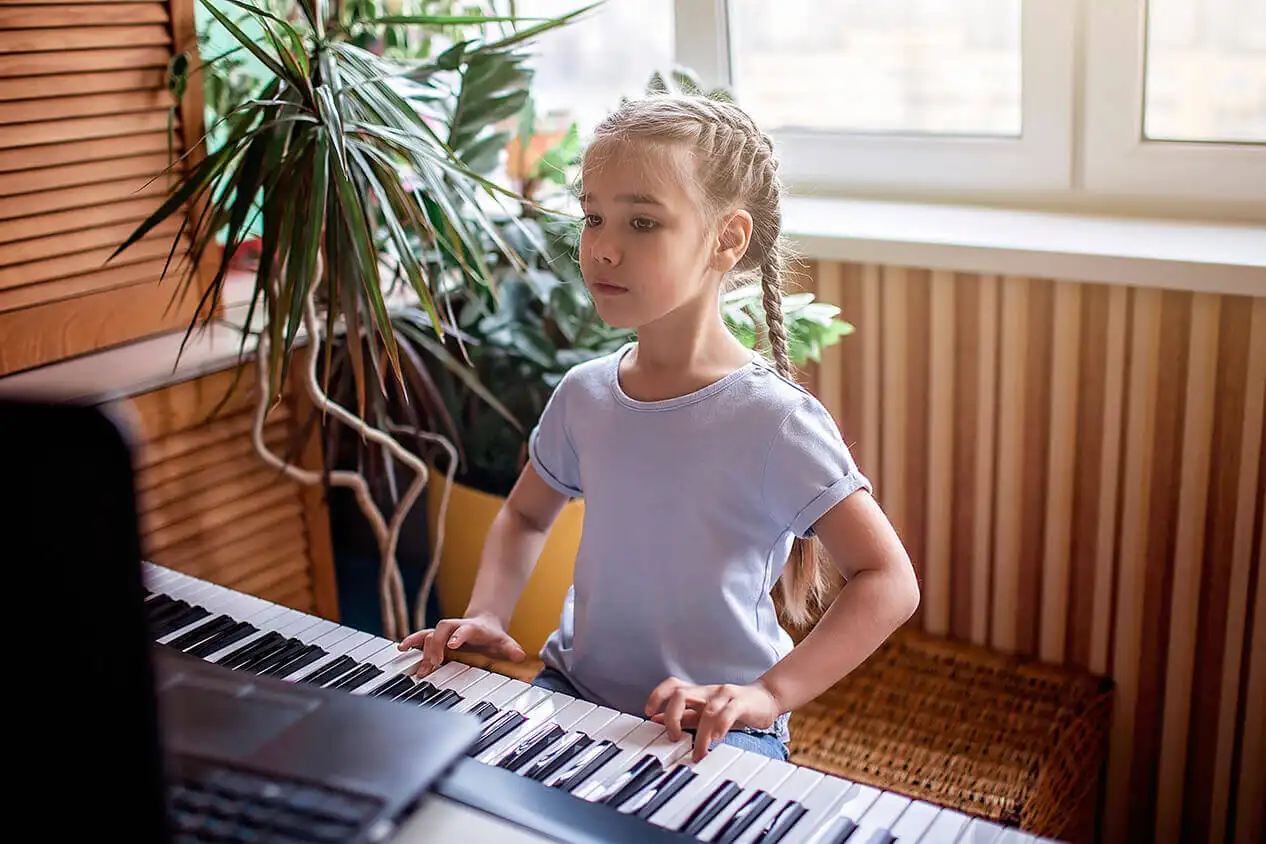 Learn Online With Casio
The SA-51 includes free access to online music lessons from the Casio Music Academy. Watch and participate in a series of online tutorials to help you build secure musical skills, designed by a team of music educators.
These lessons are not time-limited or free trials, they're there for you for as long as you own your Casio keyboard.
Study online, anywhere.

No time limit or expiry.

Includes videos, play along exercises and interactive graphics.

Designed for beginners.
---
SA-51 Highlights
32 Mini size keys.

100 Tones

50 Drum patterns.

Metronome feature.

Full graphic, easy to read LCD screen.

32 Note polyphony.

Piano, Trumpet and Drum shortcut buttons.

3.55mm Headphone output.

Dimensions: 44.6 x 20.8 x 5.1cm

Weight: 1kg